Zoom Exclusive
Member Benefit
Whether it's a virtual keynote, a weekly operations meeting with your team, or a virtual networking event to connect with your peers, you need to be able to reach your clients, business partners, and fellow speakers no matter where you are in the world. But deciding which video conferencing platform is the easiest to use and delivers the most benefit for your hard-earned dollar is a daunting task.
NSA negotiated an exclusive deal for members to bring you all of the best Zoom features at a massive discount (seriously, it's going to save you thousands of dollars a year). Virtual isn't going away, so it's time to invest in this integral tool for your business.
Meeting License ($149.90/year)
Large Meeting ($600/year for up to 500 participants)
Webinar 500 License ($1400/year)
Unlimited Cloud Recording ($480/year for only 100gb of storage)
Automatic Transcription
Live Stream to Facebook
LTI Integrations
Custom Personal Meeting ID
Custom Branding
Reporting
It's time for you to save your valuable time and money.
Subscribe to Zoom today…unless you like paying thousands of dollars more a year.
Zoom Resources
and Best Practices
Zoom Deep Dives: The Basics
Zoom Deep Dives: Meetings
Frequently Asked Questions
Admin Feature Controls
Admin dashboard
REST API
Zoom Rooms (which is separate from Zoom Breakout Rooms)
After logging into your member profile, you can find Zoom in the store with the following steps:
Select "Zoom Subscription" from the options on the left or scroll down the page.

Click on Zoom when it appears in the store.

 

Click "Add to Order" near the middle of the screen. The shopping cart will pop up allowing you to check out or continue shopping. The menu will dissolve after a few moments. you can click the shopping cart option to bring it back.

 

Enter your payment information or select your saved payment method to check out!

 
You will receive a confirmation email from NSA after your purchase, asking you to allow two business days for NSA to process your order. Look for the email from no-reply@zoom.us in your spam folder if you're unable to find it in your regular inbox.
If you receive the confirmation to a different email address than the one you would like associated with your Zoom subscription, contact NSA at MemberServices@NSAspeaker.org.
Your account payments are managed by NSA, but the individual account and settings are still managed by you.
If you're already using Zoom, you can transfer your account to NSA's discounted program. You will need to use the same email address that is associated with your current Zoom account. More information is listed below, but it's possible to get a prorated refund for your remaining subscription.
If you have an existing account, Zoom will identify your email address, and ask you several questions that will guide you through your reimbursement process.
When prompted, select "Refund to me" for Zoom to reimburse you, noted in the image below.
Note: The second option refunds the remaining balance to the NSA master account. It's still possible to get the prorated refund; however, it will increase the length of time it takes to receive it.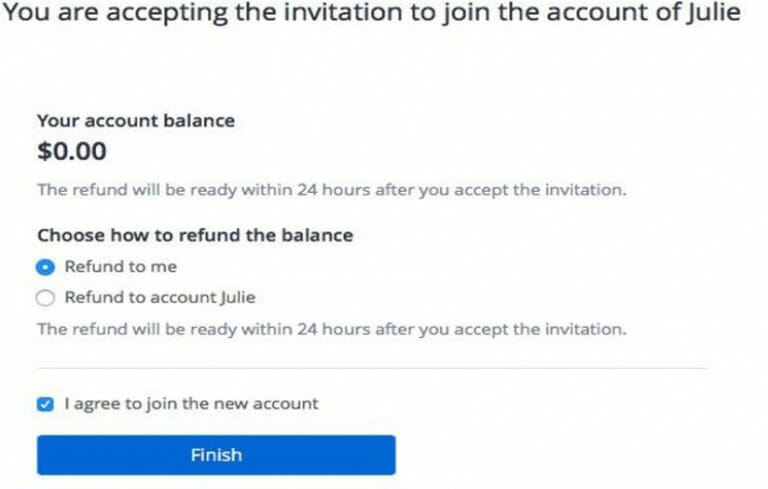 Please note, the reimbursement of the prorated amount will come directly from Zoom in approximately seven business days.
If you followed the listed steps when transferring your account, there should be no action needed.
Yes. Any meetings and webinars that you have scheduled already will automatically transfer over to your new account.
Our program includes one host license. If you would like multiple licenses, you can create additional accounts by using different email addresses, and paying the annual fee to NSA for each email address.
You will continue to see the "Pro License," but will receive enterprise-level features. All features within the meeting are the same, but you have access to unlimited cloud recording, and increased meeting and webinar sizes, which are included in the "Enterprise License."
With NSA's partnership with Zoom, an NSA staff member personally works with Zoom for your account transfer, which is why it can take up to two business days. Once this is complete, Zoom can see that you are part of our program.
When you subscribe to the NSA Zoom account, you can create a custom personal meeting ID (Zoom.us/YourTextHere).
If an app is labeled as you/individual, you can add the app. If an app says user/group, you cannot add that app to your account.